Ice Chiller Thermal Energy Storage
19 July 2010
5,649 views
3 Comments
The material on which I intend to focus today is water in solid form, commonly known as ice.  You may have seen the substance lurking as chunks in your super-large coke, or possibly it has formed, dagger-like, on the eaves of your house in winter.  But did you know that ice can be used to save money on cooling costs all year long?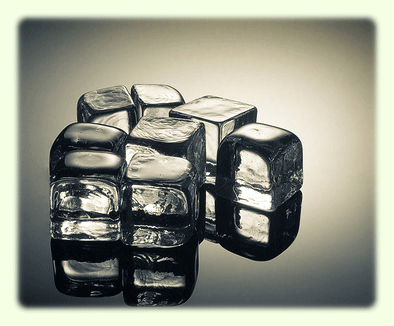 Image courtesy www.agrichill.com
During normal working hours (9-5) almost everyone uses his or her air conditioning system to cool buildings, which means the demand on the grid is the greatest.  Power companies charge the most money per kilowatt hour at this time of day because it strains the system to meet the demand, and because they can do what they want.
Thermal energy storage (TES) systems take advantage of changes in temperature over the diurnal cycle, storing energy in a thermal reservoir for later reuse.  The systems perform well in commercial and institutional buildings, whose peak energy demand occurs during daytime hours and drops off precipitously at night because everyone has gone home.  The thermal reservoir may be maintained at a temperature above (hotter) or below (colder) than that of the ambient environment, but today I'm writing about ice chiller TES.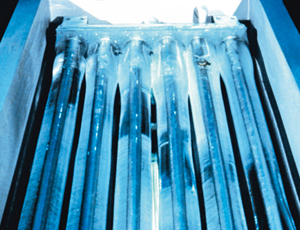 Photo courtesy Greensource Magazine
The most widely used form of this technology is in large building or campus-wide air conditioning or chilled water systems. "In this application a relatively standard chiller is run at night to produce a pile of ice. Water is circulated through the pile during the day to produce chilled water that would normally be the daytime output of the chillers" (Source: Wikipedia).  Ice storage systems surprisingly inexpensive; full storage systems are often priced competitively with conventional air conditioning designs.
Baltimore Aircoil Company, out of (you guessed it: Baltimore, MD) is one of the nation's leading manufacturers of TES systems.  They make ice-chillers "out of serpentine steel tubing that has been galvanized to protect against corrosion. The tubing rests in an R-18 insulated tank and can produce between 237 and 761 ton-hours of ice (one ton-hour equals 12,000 Btu), but much larger custom units are also available" (Greensource Magazine).  The ice chillers take the form of enormous metal-clad boxes (although I've seen some systems that get partially set into the ground).  But even though they're not exactly attractive, if you're using them they're probably saving you money and that's a beautiful thing.
*UPDATE – 07/29/10
I recently heard from another producer of Thermal Energy Storage Systems – CALMAC.  According to a representative, CALMAC's technology can store renewable energy overnight to reduce next-day cooling costs by 40%.  The technology was recently employed at the Bank of America building at 1 Bryant Park, which acheived a LEED platinum rating.
Ice chillers use frozen water to chill the air, reducing energy consumption.  Therefore, I've filed them under Water and Fire.
Cited:
"Ice Chiller Thermal Energy Storage." Greensource Magazine.  Accessed 07/19/10.  URL.
I just had one of those moments when you realize you're compulsively writing about air conditioning.  This is my second post on the subject this month, and I can't swear that it will be the last.  I'm most likely drawn to writing about AC because it's summer in Texas and the heat index on any given day makes the national debt seem piddling and insignificant.  I'll probably be writing about heaters in December, so you have that to look forward to in addition to the winter holidays.